Luxury Streetwear Clothing Act 3: The Third Capsule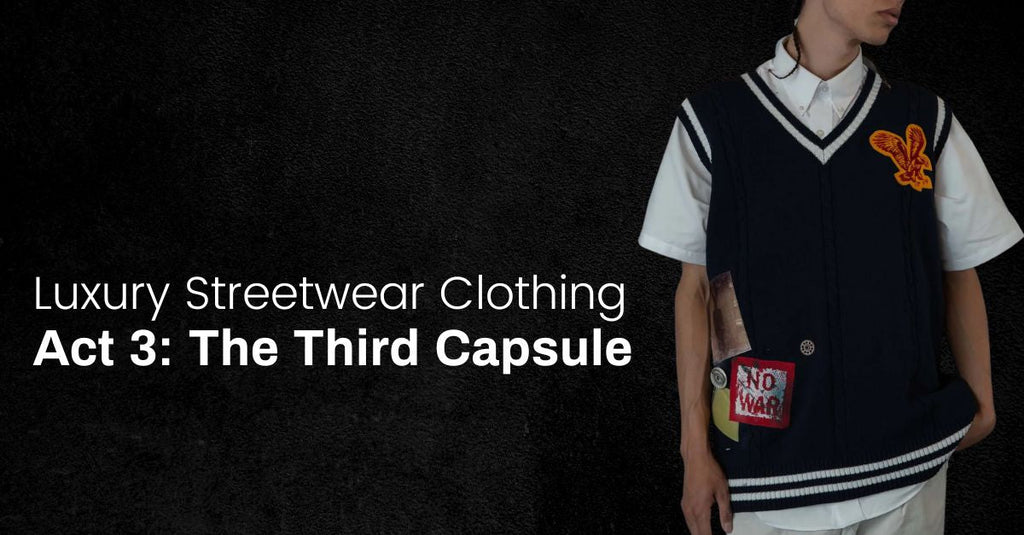 Are you looking for the next step forward in luxury streetwear? Here at Les Fantome Palette, we recently released Capsule 3.0. It builds on what we've already done while continuing to grow in new directions. In dramatic storytelling, act three is where the story comes together, where the themes are revealed and the climax takes place. The many different pieces in Capsule 3.0 continue our themes of historical flashpoints, metal moods, all mixed with references to classic Americana and more. 
Jackets
Our luxurious streetwear can be worn in many different locations and situations. As summer fades into fall in the Northern Hemisphere, the temperatures start dropping. That could make it the perfect time to get our Planters Jacket. An industrial design jacket that boasts textured fine detailing and floral marketing, it comes complete with button closure. The emerald color helps it to stand out practically anywhere. 
Sweaters
Speaking of items that can keep you warm and fashionable throughout the wintry months, our adored sweater is as soft and flowing as can be. The slightly irregular fit is eye-catching, as are the sparkling details on the front and torso area. The vibrant lemon color is bright even when the sun is hidden behind November's clouds. Another sweater from the collection: "La Vie Sweater Aqua." Durable enough to last you through the winter and many to come, the Japanese denim stitching, with animated patchwork, photo art, and contrast lettering makes for something that is fashionable all throughout the year. 
Everything Else 
Just because the sun is out for fewer hours of the day, that doesn't mean that you need to be any less fashionable. To that end, we offer handmade Eros sunglasses. Well-detailed with a sleek, glossy finish as well as a fade smoke gradient, these sunglasses look and feel great no matter how little the sun shines. We've decided to bring back some of our more timeless pieces for this third capsule, such as our plush, soft, oversized kimono top. Alternatively, maybe you're someone who doesn't mind the cold of winter: our 100% organic cotton shorts could be exactly what you need. 
Another Kind of Luxury Streetwear 
The above are just some of the pieces from our third capsule. No matter which of them is right for you, you'll find that all of them have some sense of rebellious fashion to them. You can find any of the pieces for you to choose from on our online shop here.